VI International Ophthalmic and Ophthalmoplastic Training Courses
VI OOT Courses
Ottobre 2014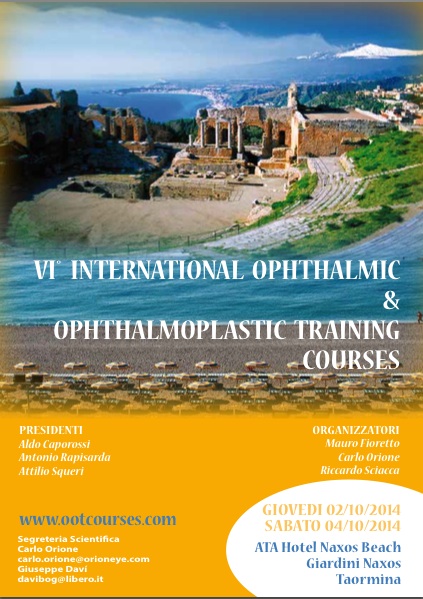 VI Ophthalmic and Ophthalmoplastic Training Courses
Giardini Naxos
Taormina
Giovedi 2 / Sabato 4
Ottobre 2014
ATA Hotel Naxos Beach
Organizzatori: Mauro Fioretto, Carlo Orione, Riccardo Sciacca
Presidenti del Congresso: Aldo Caporossi, Antonio Rapisarda, Attilio Squeri
International Meeting under the patronage of I.S.V.L.S.
(International Society of Vitreous Laser Surgery)
Committee of Experts:
Scott Geller (USA), Feike Gerbrandy (Holland), Carlo Orione (Italy)
08:30-9:30 Free Papers on Laser Vitreolysis (the best will be published)
(To submit a report you must send the title and a short abstract to the Scientific Secretariat of acceptance)
9:30-11:00 Yag Laser Vitreolysis for floaters : Method , Results, Indications and Contraindications to treatment . Why Yag Laser are not all alike
11:00-12:00 ROUNDTABLE "The Laservitreolysis"
The most well-known international Yag laser users will respond to questions from well-known vitreoretinal surgeons on : Utilities of treatment, risks, benefits, possible complications, long-term results
During the Roundtable will give you ample space to put other questions
12.00-13.00 Medical Legal Issues on the techniques covered during the 3 days of the Meeting
13.00 Closing of Meeting
Will set up a service Simultaneous Translation Italian / English -English / Italian
During the 3 days Conference it will be the opportunity to make you a WET LAB on Vitreoretinal Surgery, through a virtual machine, and a WET LAB with the Yag Laser Vitreolysis on the egg white
Teacher-on-demand: At certain times of the day and on request, the teachers will be available to assist participants during the Wet Lab to provide them with the advice of the case
The Free Papers should not exceed 5 minutes and the title of the works must be sent to the Scientific Secretariat not later than September 28, 2014
Course credits with FAD

Registration for Ophthalmologists, Dermatologists, Plastic Surgeons, Physicians Aesthetic:
€ 140 before 15 July
€ 180 after that date
€ 200 in Conference Venue 
Graduate (with clearance certificate enrollment): 60 Euro
Nurses and Orthoptists: Euro 40

The registration fee allows you to participate also in the days of the meeting of Thursday 2 (Ophthalmoplastic Surgery) and Friday 3 (Glaucoma, Refractive Surgery, Femtofaco, Vitreosurgery) but in these two days there not will be a simultaneous translation service.
Courses Venue
Hilton Hotel, Giardini di Naxos, Taormina, Sicily, Italy
Organizing Secretariat
Fabiano – Regione San Giovanni, 40 – Canelli (AT)
Tel. 0141.1768477 – Fax 0141.033112 – p.daniele@fgeditore.it
Reservations for hotels, flights and transfers
Cantore Travel – Tel +39.010.415.126
Mail: gruppi@cantoreviaggi.it